We welcome our patners at Munich to launch our our new ECCO 95 series today! Spending a full day to get a deep insight into the ECCO 95 USPs an technical features.
As the premium sensor series part of the ECCO family, the ECCO 95 sensors are the new "3D measurement of things" with the combination of resolution and measurement speed. This is made possible by the new sensor platform with innovative electronic design along with blue laser technology and a tailor-made optics.
Our partners will also have the change to get hands on, try out ECCO 95 and discuss specific projects with SmartRay's 3D Experts.
A new area of 3D scanning starts here!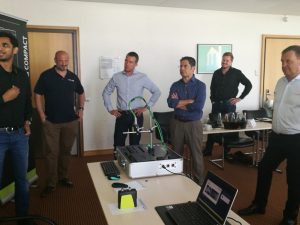 Introducing ECCO 95 series to our partners